40W SOLAR HOME SYSTEM MET LCD-SCHERM
MTO-SL207
Zonnepaneel van Solar 40w verlichtingssysteem: 40w
Leiden zuur batterij van 40w verlichting zonnestelsel: 26Ah'
USB-poorten van 40w verlichting zonnestelsel opladen: 2st.
AC opladen van de haven van 40w verlichting zonnestelsel: Ja
LED verlichting: 6pcs * 3w superhelder led verlichting
Verlichting tijd: ongeveer 12 uur
Zij is van toepassing op huizen, scholen, hotels, boerderijen, constructies en internationale hulpprojecten.
Feature
LCD Screen Advantages:
* Calendar: Display Date and Time
* Display Input Voltage and Current
* Over Current Protection (OCP)
* Short Circuit Protection (SCP)
* Power Status of battery, you will know it is fully or under charging
* Working status: Such as charging, power status
* Warning: Reminding you to charge the battery
* Smart Auto Detection for current of charging appliance such as mobile
* Home lighting
* Mobile/MP3/MP4 charger
* Plug and play system
DC Fan
12v10w 16" (not include)
DC TV
12v20w 15" (not include)
Solar Panel
1pc 18V40W polycrystalline panel+ 5m cable
SMF lead Acid Battery
1pc 12V26Ah rechargeable
Lamp
2pcs LED 3W lamp + 5m cable of each bulb
USB port:
2pcs 5V output for mobile, MP3,MP4, digital camera charging
Indicator
LEDs 25%, 50%, 75%, 100%
Fully charging time
About 8 hours
Working time
2pcs bulb+fan+TV: 6 hours; 4pcs bulbs+fan+TV: 5 hours
Size
Elec. box: 249*227*138mm
Panel: 685*515*30mm
Weight/ctn
(Power box) N/W: 19kgs, G/W: 23KG; (solar panel)N/W: 19KGS, G/W: 22.05KG
Packaging
2pcs/ctn(power box); 5pcs/ctn( solar panel)
carton size for power box: 490*290*415mm
Carton size for solar panel:665*210*565mm
20ft container loading: 618 pcs
40ft container loading: 1280 pcs
Foto's van Solar 40w verlichtingssysteem: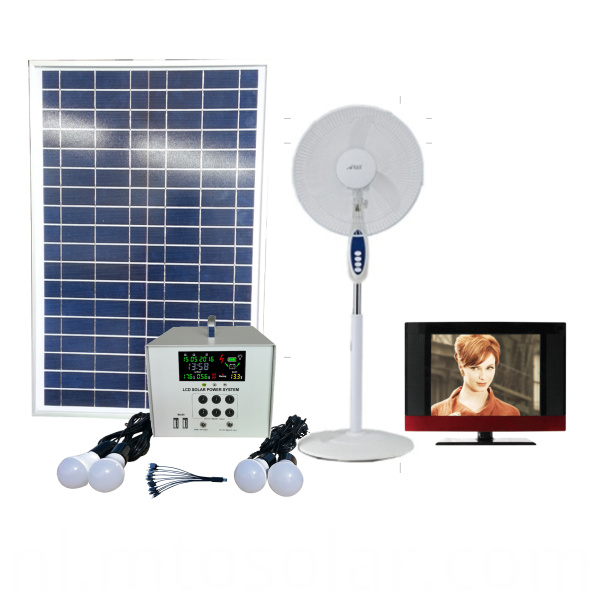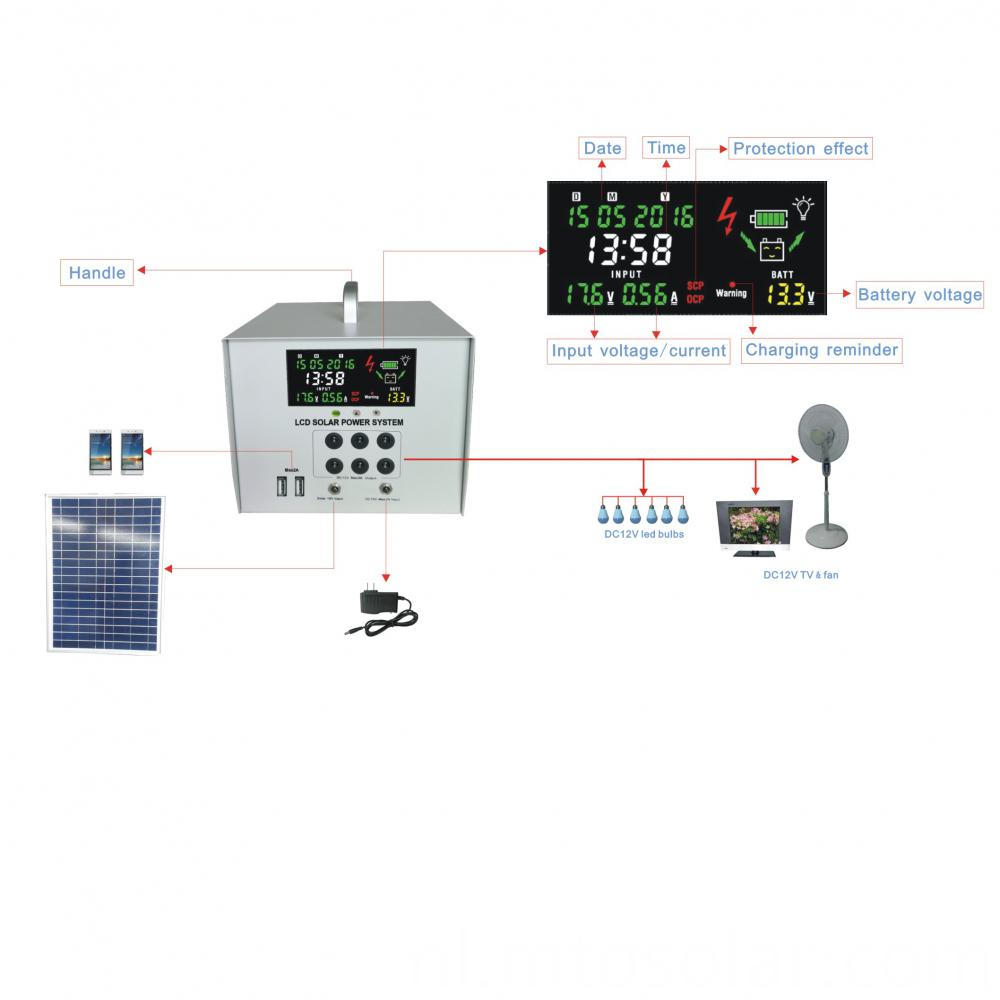 kenmerken & voordelen van zonnestelsel 40w verlichting:
AC of zonnepaneel opladen connector voor het opladen van mobiele telefoons, mp3 ets.
Veiligheid en gemakkelijke installatie, Plug en play-systemen;
Goede kwaliteit paneel om de hoge efficiëntie en lange levensduur behoeften;
Zonne-automatische verlichting controller: met verstelbare uitvoering tijden, overmatige huidige bescherming;
hoog rendement LED chip
Super heldere hight lumen uit zetten
milieuvriendelijk
standaard gloeilamp
Opknoping haak voor belichting, koolstofarme licht
Flexibel ontwerpen per clientaanvragen;
Zonne-40w verlichting systeemtoepassingen
Home verlichting, verplaatsbare verlichting, draagbare zonne-licht
Connector voor het opladen van mobiele telefoons, mp3-ets
Architecturale verlichting
Artwork verlichting
Het is heel goed voor binnengebruik waar er gebrek aan elektriciteit en voor outdoor activiteiten zoals picknicken is, vissen en kamperen.
Voorwaarden:

-Handel termen: FOB Shenzhen
-Leiden tijd: 25 dagen
-Betalingstermijn: T/T 30% aanbetaling, T/T 70% het saldo vóór levering
-Garantie: 1 jaar voor de accu, 2 jaar voor LED-lamp, 5 jaar voor zonnepaneel
-Het bovenstaande citaat is geldig binnen een maand
verzendkosten voor Solar 40w Lighting System:
Door Express of door de lucht moet gewoon 3-6 dagen naar wereldwijd. Om wereldwijd voor veilige verzending, maak je geen zorgen over het pakket damager of verlies. Het duurt ongeveer 20 ~ 45 dagen om wereldwijd.
Opgelet ons uw contactgegevens bevatten uw telefoonnummer gemakkelijk contact vanaf verzending bedrijf officer.
Relevante beelden van zonnestelsel 40w verlichting:
40w verlichting zonnestelsel geleverd door MTOSOLAR
Product Categorie : Zonne-verlichtingssysteem met LCD-scherm